Looking for a Canadian female journalist who lived in Swissotel Grand Shanghai, July 22nd, 2009
Hello!
Apologies as I do not remember your name. You probably don't remember who I am and why I am looking for you today, but I never forgot you. 10 years ago, July 22nd, 2009, you were on a business trip and walked into the 5th floors of the Swissotel Grand Shanghai, located at 1 Yuyuan Rd, Jing An Si, Jingan Qu, Shanghai Shi, China, 200040, where one of my beauty Solons was located.
I was a 19 year-old, but was purposely dressed like a lesbian trying to fit beauty industry expectations, to make myself appear a mature business woman. You were wearing a white suit with silver colour high heels. You had medium length blonde hair, wearing professional makeup. When you walked in, I liked your style and the inner confidence at first sight. You asked the services and looked at the menu, you choose your nail and facial services. I was the one who did you nails.
You asked me where I came from and how long I have worked in very vivid English, I replied that I came from an indigenous community called Tujia in south-centre of China and I've working in Shanghai since I was 16, and also I told you that you are going to like the design I make for your nails. I spoke that two English sentences fluently because I memorized it and I said it many times to many clients. That was only one of a few English sentences I was able to speak.
I typically only spoke to answer clients's questions never ask questions because my vocabulary was so limited, but, that day, I did my best to organize my vocabularies to ask three questions of you. I remember they were, "How can I become a woman like you," "What do you do," and "Why are you doing what you do?"
You were surprised by my questions, and you did not answer me directly. Instead, you asked me how old I was. I hesitated for a moment. I said that I wanted to tell you that I was 30 years-old like I told other clients, but I wanted to tell you the truth today that I was only 19.
You replied, "why do you have to lie about your age?"
I answered, "I've been lying about my age since the day one I started working. People trust a mature woman to have a better working ability—a mature woman like you."
You said, "That explains why your dress does not match your teenage face. You should be yourself. You should not push yourself to grow up.
"You will grow up eventually. Take your time and enjoy the process of growing up—the process of becoming the woman that you would like to be. I am only one kind of woman. There are so many other kinds of women in this world and they are all beautiful. You will be one of those beautiful women."
That was the first time in my life I heard the idea that I can CHOOSE to become the woman that I like to be—not just the woman that other people want me to be in the name of for my own good. You just opened a small window for me to another world and, I saw a sparkle of light through the window, on that day, my life changed forever.
You told me that you worked as a journalist in Canada. I did not know those two words, "Journalist," and "Canada." You helped me type those words in my little blue Casio Electronic dictionary.
You talked about your hometown, your country, your story. Most of that, I did not understand. I recognized only fleeting the words: "colour," "water," "dream," "lake," "flower," "winter," "ski," "flag," "house," "animal," "Europe," "sparkle," "ocean," "man," "light," "fish," "rock," "time," "school," "romantic," "pie," "childhood," "French," "mirror," "bridge," "twenty-one," "map," "passion," "bacon," "love," "horse," "grandmother," "boyfriends," "couch," "white paper," "April," "battery." The story, I did not understand, but as you told it, I swam around in your description with my own imagination and, in my head, I drew a beautiful image. It was THE MOST beautiful image that ever was inside of my head. It was magnificent and It blows a 19-year-old girl's mind.
The service I provided lasted about an hour. You chatted with me the entire time without even looking at your nails. I was so absorbed by everything that came out from your mouth and completely forgot about doing my job... at the end, you were in a rush to go somewhere else and so I did not even finish my job. You would not let me and you said, "It's OK," and you paid for the service and then gave me $100 Canadian as a tip.
Since then, I've been choosing and training myself to become a woman who I wish to become, not the woman who I was told to become or supposed to become. I've lived my life with my own choices in every aspect way and I have accepted the consequences of all my choices for life.
In 2011, I sold all of my business in Shanghai and went to study English at Dalian University of Foreign Languages. In 2012, I passed the IELTS and applied for the Journalism program at Humber College in Ontario, Canada. In 2017, I received my Journalism degree, as I wished.
This brief moment was, for you, a random encounter. You casually walked in to get your nails done in a hotel and had a chat with a farm girl who did not understand what you were saying and forgot doing her job. Then you left to go somewhere else. I didn't even get your name and you do not know mine, but that doesn't change the fact that you just changed a little girl's life and set it in a completely different direction—without ever meaning to.
Over the past 10 years, I have thought often of your face—during the good and bad times I have encountered. I tried to look for you—especially in 2017, when I graduated from the Journalism program. I researched every Canadian, female journalists' picture I could find online but I failed to find you. I don't know any of your personal information. I know only that you are a Canadian, you worked as a journalist, you have dark blue eyes, medium-length hair, you stand about 165cm tall, you are about 45 years old (you were 35 then), and you have a small tattoo on your left-hand wrist. Still; I believe I would recognize your face in a crowd even today.
I don't know why I am looking for you and what I would say when I meet you. Probably, I would just say, "Nice to see you again," or "Thank you for changing my life." I realize the chances to finding you might be zero, as I am going to leave Canada soon, but I would like to make one final attempt. I would love to see you again in this life of mine.
I am going to leave this letter to my website online. Perhaps you will one day accidentally find this letter and contact with me. My name is Jiangli Tian, my email address is Jiangli.tian@hotmail.com.
I know the chances are very low, but I really hope a miracle.
Thank you to the woman who opened up a world full of possibility for me.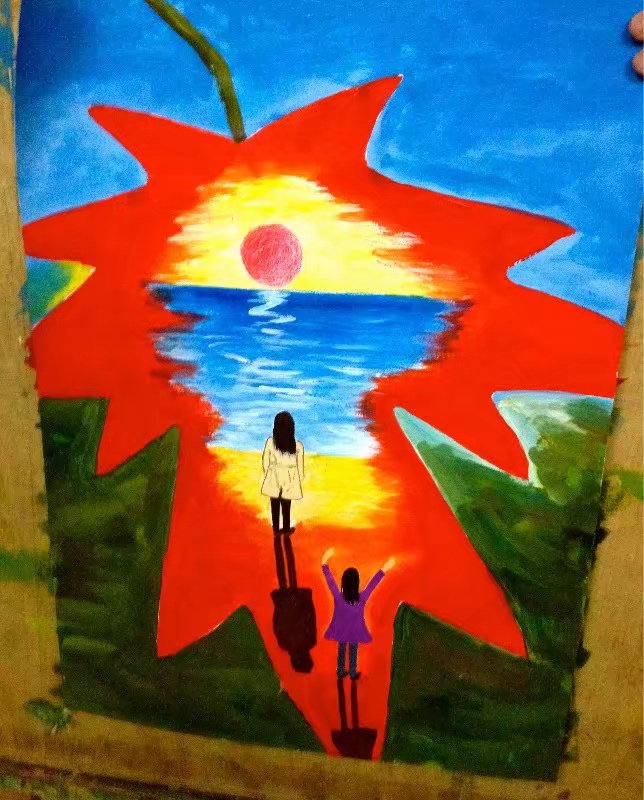 Made in 2012 | By Jiangli Tian
I was not able to express how I felt about you verbally in both English and Chinese at that time, I drew them out. This painting became one of my college application documents and you were the main character of my Personal Statement when I apply for the Bachelor of Journalism in 2013.